Compact infill development can create affordable, inclusive and attractive cities, like Montreal, "plus belle ville au monde."
To increase affordability Cities for Everyone recommends upzoning neighborhoods to create a competitive market for developable land. This allows the lowest-cost housing types – townhouses and low-rise apartment – to be built in walkable urban neighborhoods where families can minimize their transportation costs.
There is solid research indicating that allowing more private development increases overall affordability. A study by economist Evan Mast described in Daniel Herriges's, The Connectedness of Our Housing Ecosystem, used an innovative approach to measure these impacts. It tracked the previous residences of the occupants of 802 new multifamily developments in 12 North American cities, and the previous residences of the households that replaced them, through six cycles. It found that building market-price apartments causes a kind of housing musical chairs, as households move into new units. This analysis indicates that for every 100 new market-rate units built, approximately 65 units are freed up in existing buildings, accommodating up to 48 moderate- and low-income families.
As evidence that upzoning can increase affordability in attractive and economically successful cities, look to Montreal, Canada. Although it is considered plus belle ville au monde (the world's most beautiful city), its housing prices there are 30% lower than in the peer cities, such as Toronto and Vancouver, as indicated in this recent comparison: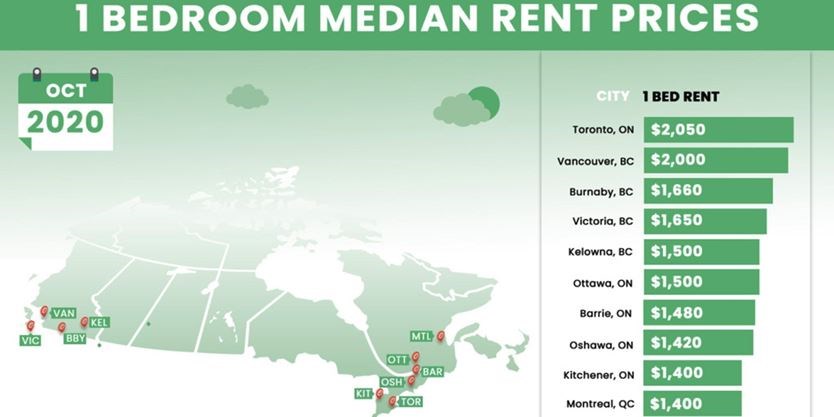 Montreal rental prices are 30% lower than peer cities such as Toronto and Vancouver despite it being economically successful and un belle ville au monde (one of the world's most beautiful cities).
Why is Montreal so affordable? Canadian cities all face the same global market pressures, but they vary significantly in their local development policies. According to A Visual Guide to Detached House Zones in 5 Canadian Cities, Montreal allows multifamily housing on 54% of its residential land, about twice as much as comparable cities, as illustrated below. The city also eliminated parking minimums.
A Visual Guide to Detached House Zones in 5 Canadian Cities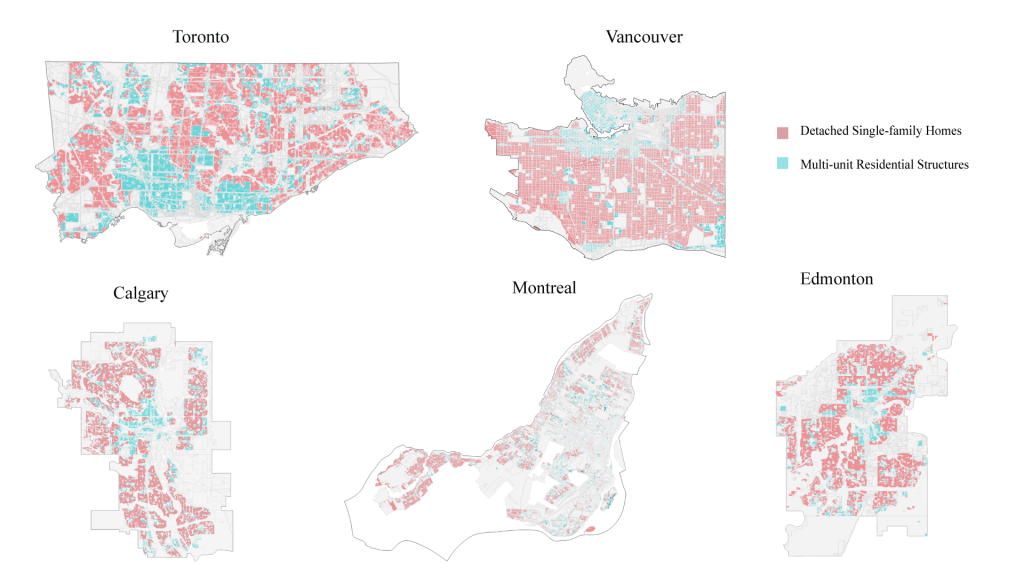 Montreal allows multifamily housing on about twice as much land as comparable Canadian cities, and eliminated parking requirements in central neighborhoods. This helps explains why it is attractive, economically successful and affordable too.
As a result of these flexible development policies, central Montreal neighborhoods are full of missing middle housing types, townhouses and low-rise apartment building, which creates an abundant, competitive market for inexpensive homes. These neighborhoods are compact and mixed, very walkable, and well served by public transit, which makes them truly affordable for both housing and transportation.
Compact development also reduces environmental impacts. Compact infill consumes much less land per capita, particularly if it reduces vehicle ownership and therefore the amount of land that must be paved for roads and parking facilities, and it greatly reduces pollution emissions. The figure below shows a map produced by the environmental group, Green Resilience, based on analysis of the differences in emissions between walkable and sprawled neighborhoods. Compact neighborhood residents typically produce 30-60% lower emissions than the same households types would produce living in single-family houses located in conventional, automobile-oriented suburbs.
Car-oriented Sprawl Increases Driving and GHGs in Greater Montreal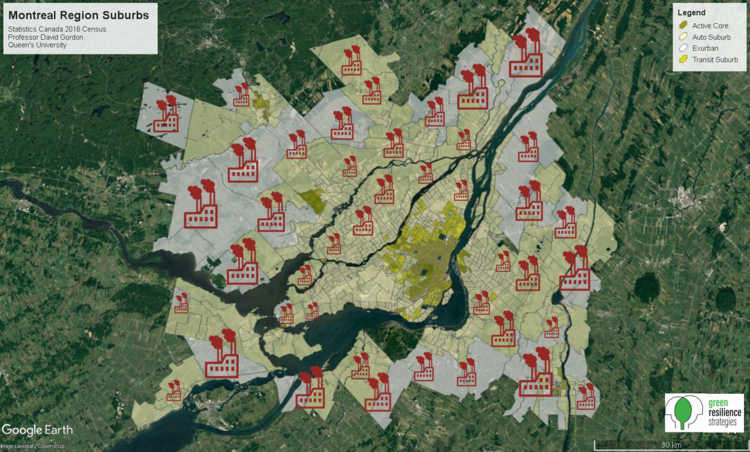 Residents of central Montreal neighborhoods drive only about one-third of the regional average, providing financial savings and environmental benefits.
Because it is accessible, affordable and efficient, Montreal is an exciting, creative and integrated city. It has a dynamic art scene, fantastic food and music, great theater and music, incredible cultural diversity, plus plenty of innovation and business. There's something for everybody, and newcomers are always welcome. The key is to this success is building lots of moderate-priced housing in walkable urban neighborhoods.
This is very good news for anybody who cares about affordability, economic opportunity, and joie de vivre ("love of life"). C'est bon!