The City of Victoria is currently developing Inclusionary Housing and Density Bonus Policies. These policies require or reward developers for selling or renting a portion of housing units below market rates. The City Council is currently reviewing the proposal.
Inclusionary policies are controversial. What are their benefits, costs and risks? A good place to start is the Sightline Institute's  Inclusionary Zoning: The Most Promising—Or Counter-Productive—Of All Housing Policies. Great Good or Great Bad, Depending on Design and the Grounded Solutions Network's Inclusionary Housing Website. Also see:
Bento A, Lowe S, Knapp GJ and Chakraborty A. (2009), "Housing Market Effects of Inclusionary Zoning," Cityscape: A Journal of Policy Development and Research, Vol. 11(2), pp. 7–26.
Mukhija, et al. (2015), "The Tradeoffs of Inclusionary Zoning: What do We Know and What do We Need to Know?" Planning Practice & Research, Vol. 30(2), pp. 222-235.
Daniel Shoag (2019), Removing Barriers to Accessing High-Productivity Places, The Hamilton Project.
This research indicates that inclusionary policies can provide some affordable housing, but if mandated for smaller and less profitable projects they can reduce desirable development, particularly moderate-priced infill projects. Cities for Everyone advocates the 1.5% Solution, which proposes that residential neighborhood housing supply should grow about 1.5% annually, consisting primarily of moderate-priced, compact housing. Inclusionary requirements could discourage such development.
Montreal is a success story for affordable housing development. The city is relatively affordable (see below), due to policies that encourage mid-rise housing: 78% of the city's residences are two- to five-story townhouses or apartments.
During the last two decades Montreal developers built approximately 10,000 new Grow Homes, which are narrow, flexible-design, partly-finished row houses, with prices that start at approximately $150,000.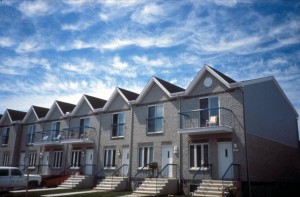 Townhouses are suitable for many families, but 3-6 story apartments with unbundled parking (parking rented separately from housing units) are even more compact and cheaper. Montreal neighborhoods are full of such housing, making it an affordable and walkable city.
Many Victoria developers want to build compact, moderate-priced infill housing, but lack suitable land. Such housing is currently prohibited in most Victoria neighborhoods because it is too tall, too dense, and lacks sufficient setbacks and parking, and so would require special variances which add costs and delays. These housing types require at least 100' x 100' parcels (i.e. a quarter acre), and preferably more to achieve economies of scale. Although many parcels of this size exist or could be assembled, few are zoned for multifamily. This shortage creates a sellers' market, so most of the value provided by higher allowable densities is capitalized into land, reducing affordability and developer profits.
If we want more affordable housing, Victoria must significantly increase the amount of land that is zoned for 3-6 story townhouses and apartments, and allows unbundled parking. This would create a buyers' market for such parcels, and a more competitive and affordable market for basic townhouses and apartments.
Many cities, including Minneapolis, Seattle, and Vancouver, are implementing neighborhood-wide upzonings that are increasing supply and driving down prices. Portland and Seattle are already experiencing more affordable apartment rents due to past policies that allowed more mid-rise multifamily housing development.
Although inclusivity requirements may serve a portion of housing needs, the majority of low- and moderate-income households require compact, moderate-priced urban infill. To avoid discouraging such development, inclusionary policies should:
Not apply to smaller projects, such as fewer than 20 units.
Not apply to moderate-priced units, such as less $500,000.
Exclude developments in less attractive, higher-risk locations.
Not substitute for the city-wide and neighborhood-wide density increases or other policies that support more compact infill.
The City should monitor the number of parcels that are at least 20,000 square feet, located in residential neighborhoods and zoned for multifamily housing. Whenever this number is small, the city should raise allowable densities near urban villages to encourage more affordable infill.
What do you think? What role should inclusionary policies play in achieving affordable housing goals?